Secure the future with Telerik tools for Windows Universal Apps
To support Microsoft and the Microsoft developer community, Telerik is giving away their best tools for building Windows 8 and Windows Phone apps. Get yours before the end of TechEd 2014 — no strings attached.
Click to claim your License now!
And here's the best part: When Telerik tools for building Windows Universal Apps is officially launched, they will automatically upgrade all license holders of Telerik UI for Windows 8 and UI for Windows Phone.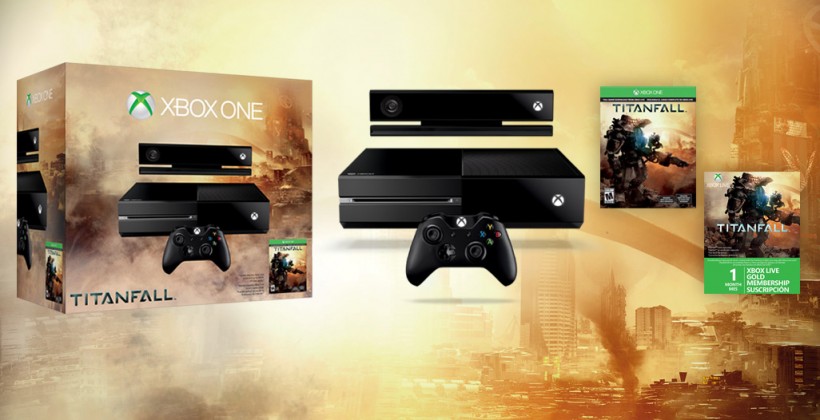 Do you live to code?
Activate your DreamSpark benefits!
Download Visual Studio Pro 2013 FOR FREE
Qualify to win an Xbox One Titanfall Edition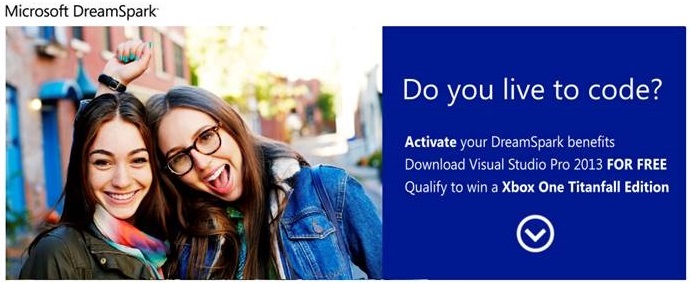 Download Visual Studio Professional 2013 FOR FREE and enter a chance to win an Xbox One Titanfall Edition!
By using Visual Studio Professional 2013, you can deliver quality applications on Windows, Office, Windows Phone, the web, or the cloud. When you combine it with Windows 8.1, you'll be able to build Windows Store apps. It's a great way to be prepared for that summer internship, or for your new job after graduation. Best of all, it's FREE to download as a DreamSpark member.
Go here to learn how you can earn a chance to win 1 of 14 Xbox One Titanfall editions. Act fast – the offer ends June 15th!
Microsoft Virtual Academy has just announced this year's Windows Phone Jump Start training for developers!
Building Apps for Windows Phone 8.1 Jump Start will be held on 29th, 30th April and extend onto the morning of May 1st:
"If you're an app developer who wants to design and build Windows Phone 8.1 apps using XAML and C#, don't miss this exciting event. The two-and-a-half day, demo-rich course, taught by experts who have years of experience developing (and writing about the process), focuses on how to create apps for Windows Phone 8.1 in Visual Studio and how to create universal app projects that share a high percentage of code and that target both Windows and Windows Phone."
If you are unable to make the live event, you can catch all of the content at your leisure as the videos will be posted to Channel 9.
The Jump Start course is comprised of four sections:
Section 1: Introduction
· Session 1: Introduction to Windows Phone 8.1 (50 minutes)
Overview of the Windows Phone 8.1 developer platform, including guidance on the choices of app framework now available.
Section 2: Building Windows Runtime Apps using XAML and C#
Sessions that show how to build phone apps using WinRT XAML
· Session 2: Getting Started Building Windows Runtime Apps (50 minutes)
Fundamentals of building a WinRT XAML app for a Phone target, introducing the controls, layout, styles and theme resources, AppBar, StatusBar.
· Session 3: Page Navigation and Data Binding (25 minutes)
Navigating between pages in a Windows Runtime app, page caching and data binding
· Session 4: Lists and List Items (50 minutes)
Programming Lists, formatting list items and handling long or complex lists effectively
· Session 5: Windows Runtime App Page Layout Controls (25 minutes)
Pivot, Hub and Single Page layouts.
· Session 6: Adapting UI for Different Screens (25 minutes)
Explain the new layout system, and how to ensure your UI adapts to different phone screen sizes and orientations.
· Session 7: Windows Runtime App Lifecycle (25 minutes)
Explain the ways apps can be started, terminated and resumed.
· Session 8: Localization and Globalization in Windows Runtime Apps (25 minutes)
Making your app world-ready
Section 3: Programming Windows Runtime Platform Features (Windows Runtime XAML and Silverlight 8.1)
Programming platform features in Windows Phone 8.1 apps from either Windows Runtime Apps or Windows Phone Silverlight Apps
· Session 9: Data Storage, Backup and Roaming (50 minutes)
All about storing data, backing app data up to the cloud and roaming data across devices
· Session 10: Contracts and Sharing Files and Data (50 minutes)
Share contract, FileOpenPicker/FileSavePicker, File & Uri associations
[Day 2]
· Session 11: Background Tasks (25 minutes)
How to run code in the background
· Session 12: Maps, Geolocation and Geofencing (25 minutes)
Maps, Location and GeoFencing
· Session 13: Networking, Mobile Services and Authentication (50 minutes)
Networking fundamentals. Includes Background Transfer Service and Web Authentication Broker
· Session 14: Tiles, badges and toasts and Notification Center (50 minutes)
Tiles and toasts and Notification Center
· Session 15: Sensors and Proximity: NFC and Bluetooth (25 minutes)
Sensors, NFC and Bluetooth
· Session 16: Contacts and Calendar (25 minutes)
WinRT APIs for Contacts and Calendar, plus new capabilities (available on phone only) for Wallet-aware apps
· Session 17: Camera, Media, Audio and Speech (50 minutes)
Working with the camera, media and video editing
· Session 18: Enterprise LOB Apps (50 minutes)
All the new features aimed at Enterprise LOB and MDDM
· Session 19: SQLite Database (25 minutes)
How to program SQLite
· Session 20: VS Tooling and Memory Profiling (25 minutes)
Introduction to the many tools built into Visual Studio to help you develop Windows apps
[Day 3]
· Session 21: App Packaging and Publication (50 minutes)
How to package your app and get your app published in the Store
· Session 22: Best practices: Building Universal Apps for Windows Phone and Windows (50 minutes)
Guidance for building for both
Section 4: Upgrading Windows Phone Silverlight 8.0 apps to Silverlight 8.1
Programming new platform features from a Silverlight app
· Session 23: Upgrading Windows Phone Silverlight 8.0 Apps to Silverlight 8.1 (50 minutes)
Recap on why you would use Silverlight, and explanation of what issues must be considered when upgrading to Silverlight 8.1. Topics include behavioural changes introduced by the quirks API, Lifecycle changes as FAR is now the only mode of reactivation, implementing share contract and using the FileOpenPicker/FileSavePicker, Web Authentication Broker, moving from MPNS to WNS, background agents alongside background tasks.
I am pleased to share the "28 Days of Devices" offer available now through February 28 as part of one of the many cool quests going on in the App Builder Rewards Program.
If you aren't familiar with App Builder Rewards, here's how it works:
 For a limited time, you can earn points for completing quests, such as coding apps, attending events, and, of course, publishing your apps to the Windows Store. Cash in your points to get cool stuff, like Xbox games, a Windows Store developer account, or a copy of Windows 8. If you're ready to code, App Builder has everything you need to create a killer app and get it in the store. So what are you waiting for? Start building – and earning – today!
Okay, that has been the deal since App Builder Rewards launched back in October.  Now, in addition to receiving 5,000 points for each published app entry, a new promotion has launched where App Builder Rewards will be giving away 28 Dell Venue 8 Pro tablet devices in daily drawings during the month of February.  To get your entry, simple submit an app between now and the  February 28 deadline and promote it to reach a minimum of 100 downloads.  In most cases, reaching 100 downloads is not too difficult but the earlier it is achieved, the more chances you have to win!  To help fast track your app to success and achieve those downloads faster, you can take advantage of the App Promotion Kit to boost your app's visibility in the Windows marketplace.
Here's how it works:
Enter your Windows Store apps to the
Apps Quest
.
If your app has less than 100 downloads when you complete the Quest between January 21st and February 28th, you'll 
get a $15 Windows Store gift card
.**
Use the 
App Promotion Kit
, Windows Store gift card and AdDuplex advertising impressions to reach 100 downloads before the end of February and earn your chance to 
win one of 28 devices
.
Want to increase your odds?
The more apps that get 100 downloads by Feb. 28th, the more App Builder Rewards points and sweepstakes entries you'll receive – and the earlier your entry qualifies, the more chances you'll have to win one of our daily device giveaways!
App Studio is an awesome web-interface for creating fully functional Windows Phone 8 apps.  It has support for displaying a variety of content from various mechanisms is multiple stylized ways.  It is similar to XPCK, but affords you the ability to develop and create a store publishable .xap with nothing more than a web browser!
For those wishing to add Pubcenter Ads to an App Studio app, this walkthrough will help you get started.  There isn't a one-size fits all solution, as the source code generated by App Studio is dependent on the template you select and the features you add to it.  This post will help you determine how to find the proper place to insert your Pubcenter Ad Control.
First you will want to download your project source code from App Studio and open it in Visual Studio: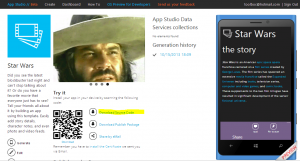 Notice in my app I have the following in my View folder: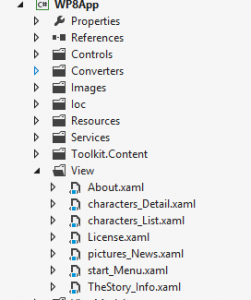 When I build the app, I am greeted with: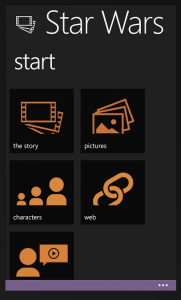 So, going of the previous list of Views, I assume that if I want an ad on this page, my best guess would be \Views\start_Menu.xaml
Next, I open this file in Visual Studio: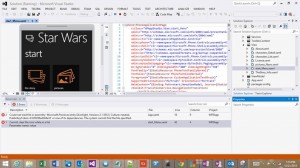 I see errors, but the XAML is rendering properly, so I simply ignore them.
Next, I add a row to the LayoutRoot grid and create a text box in the new row:
    <Grid x:Name="LayoutRoot">
        <Grid.RowDefinitions>
            <RowDefinition Height="*"/>
            <RowDefinition Height="80"/>
        </Grid.RowDefinitions>
        <TextBlock Text="test" Grid.Row="1"/>
We can see that it renders properly in the design view: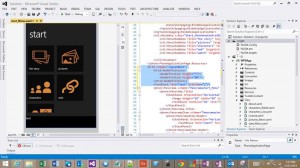 From here,  follow the instructions @ http://msdn.microsoft.com/en-us/library/advertising-mobile-windows-phone-8-adcontrol-walkthrough-api(v=msads.20).aspx and implement an AdControl in place of the TextBlock and you should be good to go!
You've got a Windows Phone 8 app and you want to initiate a phone call from a number embedded in a Web View.  In Windows 8, this just works, literally put a phone number in your rendered html and the WebView will detect it and make it clickable.  However, on Windows Phone 8 you will find that your phone number just renders as regular text.
At first, I attempted doing this the easy way by using a telephone protocol link in your html as mentioned on David Walsh' blog post on the matter.
But… it seems like the protocol trick just isn't working, it may be possible that we can inject something to turn on built-in "data detectors" but I can't figure it out, so let's make something we know can work.
Given: We can make a phone call in C# and WebView controls can allow us to call JS that can externally notify a method in C#.  So let's embed a button that when clicked calls out to the C# which in turn will initiate a phone call!
But let's do this a cool way and in effect, create our own data detector since we don't get the luxury of having one automatically like in Windows 8.   Let's also make it configurable, and why not put it in the main XPCK branch in case someone else wants to use this feature in an XPCK app.
In essence, we will create something technically referred to as a shim: http://en.wikipedia.org/wiki/Shim_(computing)
First we set the ID_CAP_PHONEDIALER capability to true in WMAppmanifest.xml, otherwise we won't be able to initiate a call as this requires elevated permissions.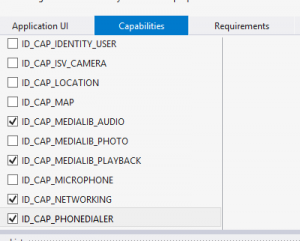 Then create a JS function to detect phone numbers and turn those into buttons with a method that calls out to C#, here is a JSFiddle I created: http://jsfiddle.net/JVsM4/252/
It simulates what we want to do but….
Note: To actually call out to C# requires a slight modification:
First we must create a scriptNotify event and enable script execution on the WebView control
And in our JS, change alert() to window.external.notify(), because whenever window.external.notify is called, it will enter the method set to execute off of the scriptNotify event and pass along any parameter it may have as a single string.
So we encode this parameter with a known prefix (launchPhoneCall: ) and intercept the parameter in C#, parsing out the 16 characters of the known prefix to yield a phone number.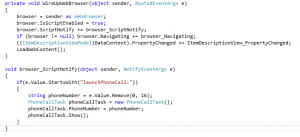 Next we look at the docs for the Phone task @ http://msdn.microsoft.com/en-us/library/windowsphone/develop/hh394025(v=vs.105).aspx and create a method to perform a call on our intercepted parameter.

To be useful to XPCK we simply create a setting in AppSettings.cs and trigger all of this behavior based on that value with a simple conditional in the View.  If true, we inject the JS method created above into the rendered Item.Description, otherwise we leave it out.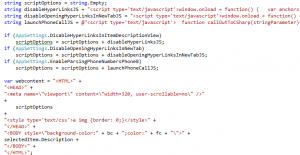 You can view the specific implemtation of this feature in the following XPCK commit entry: https://github.com/winappkits/XPlatformCloudKit/commit/026788bb70111530163a5075ff4affd0168ee35d